티티아이피 협상은 흩어져버리는데, 유럽연합의 알짜배기 나라들이 미국을 기피하기 때문

TTIP Negotiations Fall Apart As EU Big Hitters Abandons US




By Graham Vanbergen




Oct 7, 2015 - 9:23:27 PM







TTIP Negotiations Fall Apart As EU Big Hitters Abandons US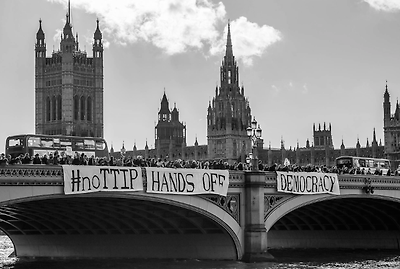 영국 카메론 수상은 미국과의 통상협상을 확대하는 일에 반대하는 세력을 비난한다, 미국은 독성조약을 강요하려는 공포의 이야기를 돌리고 있다. 문제의 통상조약은 대륙간 통상투자동반자 조약인데, 정치권에서는 협상이 아주 위험하고 함정이 많다는 악성 비난이 쏟아진다. 그러면 국민여론은 어떤가?
Britain's Prime Minister David Cameron is accusing those who oppose the expansive trade deal with the United States of making up horror stories about the agreement in order to poison the pact.
That agreement is the Transatlantic Trade and Investment Partnership (TTIP), and critics all along the political spectrum are exposing the enormous dangers of the deal — all without having to invent a single scary story.
대륙간 통상투자동반자 TTIP 조약 에 관한 국민적 반응을 보려고 유럽연합위원회는 1월에 여론조사를 발표했는데, 15만명응답자가운데 통상협상에 반대한 사람은 무려 97%에 달했다. 이것은 일반적 여론이었고 또 기막힌 것은 유럽연합 사상 최대의 청원이 제기되었는데, 2백만명의 서명이 담긴 (실제로는 3백만명) 청원서가 TTIP 조약에 반대했다.
또 올해 4월에는 수천명의 시위대가 유럽 전역의 도시 거리에서 들고 일어났는데, 쟁점은 결코 국민이 선출하지도 않은 유럽위원회라는 것이 어째서 국민이 극히 우려하는 조약에 대한 중대한 여론을 무시할 수있느냐는 정치적 항의를 한 것이다.
Back in January the EU Commission published their response to the consultation on TTIP and it was found that 97% of the 150,000 responses opposed the trade deal. These respondents represented the general public. The biggest petition in the EU's history was then presented that contained the signatures of 2 million citizens (now nearly 3 million) opposed to TTIP. Both were rejected as were proposals even for a simple hearing of the European Citizens Initiative.
Then in April this year, thousands of protestors took to the streets of cities all over Europe as unelected officials of the EU Commission continue to ignore the concerns of its citizens.
In June, fellow MEPs from many political parties who are also opposed to TTIP joined Ukip in standing, shouting, booing and clapping to show their dissatisfaction with proceedings. MEPs were due to set out their first formal position on TTIP since negotiations started two years ago and the meeting descended into chaos (video). The meeting was then stopped by the commissioners.
Meanwhile David Cameron has persistently attempted to call out those working to derail the deal. Cameron has accused critics of inventing false scare stories whilst urging business chiefs to help make the case to overcome sustained attacks from left-wing opponents and warned Britain would "rue the day if we miss this opportunity" to open up transatlantic markets.
Cameron, who (increasingly) seldom listens to the general public or elected members of parliament representing the electorate will no doubt use all his powers to get this deal though to redeem himself after being called incompetent by his own military generals and by the Obama administration over Syria.
In sharp comparison, both Paris and Berlin want the Investor State Dispute Settlement mechanism (ISDS) of TTIP removed from the transatlantic trade treaty currently being negotiated with Washington. This is a game changer.
Matthias Fekl, the French Secretary of State for Foreign Trade, told EurActiv France that he would "never allow private tribunals in the pay of multinational companies to dictate the policies of sovereign states, particularly in certain domains like health and the environment".
That was back in January. Nine months later and France has now reinforced that message and gone one big step forward.
In an interview with Sud-Ouest, Matthias Fekl threatened to "call a complete halt" to the TTIP negotiations if things do not change. EurActiv France reports. America has shown no desire to change any of the major issues that have been challenged.
Fekl told the French newspaper that he believes the "total lack of transparency" in the Transatlantic Trade and Investment Partnership (TTIP) negotiations poses a "democratic problem".

유럽시민이 TTIP 조약에 극히 반대하는 이유는 일년전에 유럽의회의원 쟝 알투이스가 요약해서 피가로지에 10 April 2014부로 기고한 바있다. 그는 7개 독소적 조항에 반대하는데 그 후로 일년이 넘도록 이런 중요한 대목을 수정하지도 배려하지도 않았다고 비난한다. 그것이무언지를 보자 :
The reasons for this stunning public rejection had probably already been accurately listed more than a year ago. Jean Arthuis, a member of the European Parliament, and formerly France's Minister of Economy and Finance, headlined in Le Figaro, on 10 April 2014, "7 good reasons to oppose the transatlantic treaty". There is no indication that the situation has changed since then, as regards the basic demands that President Obama is making. Arthuis said at that time, that he was opposed to;



TTIP

조약에 따르면 국가와 사업체간의 분쟁을 중재하는것이 사적인 것으로 간주한다는 것이다. 이는 주권국가에 대해서 있을수없는 모순적 침해사항이다....

Private arbitration of disputes between States and businesses. Such a procedure is strictly contrary to the idea that I have of the sovereignty of States. …

유럽체제에서 원산지 증명원을 한것에 대한 의문점이 있다. 미국은 제안하기를, 어떤 강제적인 웑산지 기록을 하지말자는 것이다.

그것을

포도주와 주류에 대해 그러자는 것이다. 유럽은 불만인데 이런 식으로 원산지를 증명하지않으면 유럽 지역의 상품은 다 죽는 것이다.




Any questioning of the European system of appellations of origin. According to the US proposal, there would be a non-binding register, and only for wines and spirits. Such a reform would kill many European local products, whose value is based on their certified origin.

권력과 협정에 조인하면 동료 유럽시민을 도청하고 스파이질을 하는 것이 합법화하는 것이며 유럽의 사업체에 대해서도 마찬가지 일이 벌어진다. 이런 협정은 유럽과 미국 시민의 개인적 사항을 보호해주질 않는데 그것은 조약으로 규정할 일이 아니며 조인해줄 수도 없다.




Signing of an agreement with a power that legalizes widespread and systematic spying on my fellow European citizens and European businesses. As long as the agreement does not protect the personal data of European and US citizens, it cannot be signed.

Allowing the United States proposal of a transatlantic common financial space, who adamantly refuse a common regulation of finance, and they refuse to abolish systematic discrimination by the US financial markets against European financial services.

The questioning of European health protections. We do not want our animals treated with growth hormones nor products derived from GMOs, or chemical decontamination of meat, or of genetically modified seeds or non-therapeutic antibiotics in animal feed.

The signing of an agreement if it does not include the end of the US monetary dumping

. Since the abolition of the gold convertibility of the dollar and the transition to the system of floating exchange rates, the dollar is both American national currency and the main unit for exchange reserves in the world. The Federal Reserve then continually practices monetary dumping, by influencing the amount of dollars available to facilitate exports from the United States. As things now stand, America's monetary weapon has the same effect as customs duties against every other nation. [And he will not sign unless it's removed.]

Allow the emerging digital services in Europe to be swept up by US giants such as Google, Amazon or Netflix. They're giant absolute masters in tax optimization, which make Europe a "digital colony."
France is now considering "all options including an outright termination of negotiations" says France's Trade Minister.
Concern over the impact of TTIP has united disparate groups from French farmers to German constitutional lawyers and politicians on the left and right.