Carnegie-" Fingerprint Cards Goldfinger "

We expect 71% revenue growth in 2015~2017 following a commercial breakthrough in 2015. Fingerprint Cards benefits from a first-mover advantage amid a global drive for integration of fingerprint sensors into smartphones. A broad product portfolio, long experience with OEM integration, strong IP and low costs have made Fingerprint Cards a winner in this new era of biometric security mass adoption.
We are initiating coverage of Fingerprint Cards with a BUY recommendation and target price of SEK350
Given fingerprint adoption of around ~26% in consumer electronics currently, we calculate a total addressable consumer electronics market of USD1.67bn, growing to USD2.15bn by 2017e and 47% adoption driven by global initiatives in online banking, cloud computing and sensor technology allowing an acceptable mass-market price. Emerging verticals such as payment cards may provide additional potential.
We estimate that Fingerprint Cards has close to 100% market share in consumer electronics, excluding Apple and Samsung. With little competition initially, we estimate 71% average revenue growth and 84% EPS growth in 2015~2017e. We expect the scalable business model to offset ASP and gross margin pressure, and increasing penetration to mitigate market share pressure.
The company¿s first-mover advantage has created an entrenched position and a large scale which is hard to compete with. We argue that the massive earnings momentum warrants at least a P/E(16e) of 15x despite technological and competitive risks tied to a new market."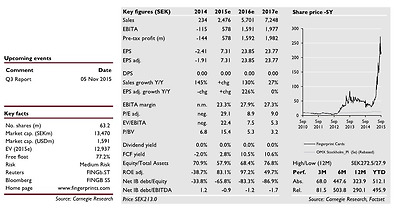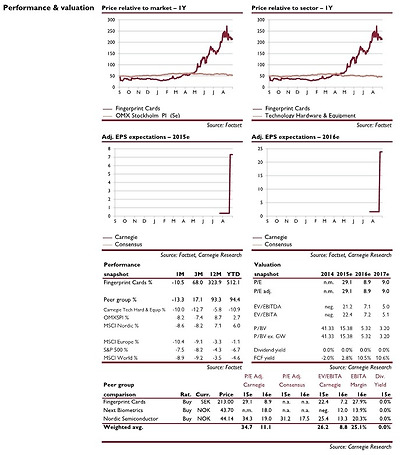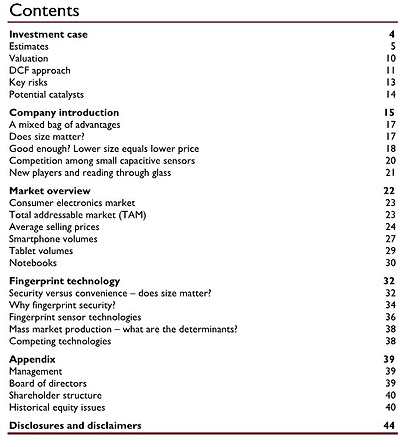 Investment case
Fingerprint Cards (FPC) is looking to grow revenue by 960% in 2015e, enjoying its first-mover advantage in a global drive for integration of fingerprint sensors into smartphones. A broad product portfolio, long experience with OEM integration, strong IP and low costs have made Fingerprint Cards a winner as we enter an era of biometric security mass adoption. With around ~25% fingerprint adoption currently, we calculate a total addressable consumer electronics market of USD1.67bn, growing to USD2.15bn by 2017e driven by global initiatives in online banking, cloud computing and sensor technology allowing an acceptable mass-market price. We estimate Fingerprint Cards has close to 100% market share in consumer electronics, excluding Apple and Samsung. With little competition initially, we estimate 71% average revenue growth and 84% EPS growth in 2017e. We believe Fingerprint Cards has ample potential and we initiate coverage with a BUY recommendation and a target price of SEK350, reflecting a P/E(16e) of 15x.
Close to 100% market share in consumer electronics excluding Samsung & Apple

FPC was the first and currently one of three companies delivering fingerprint sensors to the largest smartphone/tablet producers in the world. Its market share excluding Apple and Samsung is close to 100% in consumer electronics. Apple uses proprietary technology and Samsung uses Synaptics and Egistec. With a surge of smartphones entering the global market in 2015, most OEMs have picked FPC as provider of fingerprint scanner components, i.e. Huawei, Sony and HTC, together with smaller Asian brands such as Coolpad, ZTE and Meizu. Consequently revenue guidance in 2015 is for SEK2.5bn, up from SEK234m in 2014, or 960% growth Y/Y driven by a stunning SEK1.25bn order inflow in Q2(15).
Secular trends are enforcing higher security and rendering PIN codes obsolete

Trends in the global payment industry, moving towards online banking and digital points of sale, together with cloud computing and 'the internet of things' central for adoption of fingerprint sensors across consumer and industrial applications. These trends enforce demand for greater security through convenient solutions. Biometric security is the cornerstone of ID verification and is the only viable technology to date that is sufficiently low cost.

USD2.15bn market in 2017e based on 47% adoption

We calculate a current total addressable consumer electronics market for FPC of USD1.67bn in 2015e, based on a 25% penetration rate. As we have witnessed massive adoption of fingerprint scanners in most high-end phones and low-cost smartphone OEMs in Asia due to mobile payment support, we see penetration of 37% in 2016e. We calculate an addressable consumer electronics market in 2017e of USD2.15bn based on 47% adoption. Additional opportunities may reveal themselves in traditional verticals such as time & attendance application and payment cards. Successfully driving adoption of payment cards may open a USD1.4bn–2.2bn market in few years.

Entrenched position due to a first mover advantage

We believe FPC has ample potential. The combination of several strategic moves has made the company the preferred sensor supplier for the most important market, smartphones and tablets. A success attributed to proven manufacturing process, broad product portfolio and integration precision on the back of long experience. FPC can deliver a high-quality sensor, at low cost, and strong performance comparing to peers.

71% average revenue growth 2015-17e
Target of SEK350 based on 15x EPS(16e) of SEK24

We estimate a revenue CAGR(15-17e) of 71% with an average EBIT margin of 27% in our forecast period. Here, we have accounted for significantly increasing competition from new vendors entering the market. We expect ASP and, consequently, gross margin pressure to be offset by a scalable business model. We expect falling market share to be offset by increasing penetration. We calculate fully diluted EPS(15e) of SEK7.0, growing to EPS(17e) of SEK23. Despite technological and competitive risks, we argue the massive earnings momentum warrants a PE(16e) of 15x. We initiate coverage of FPC with a BUY and target of SEK350.

We see four main risks to our investment case:
• Competitive pressure may result in severe ASP and gross margin fall.
• Fingerprint sensor penetration may develop slower than expected.
• Competing ultrasonic technology reaches mass market acceptable prices.
• Change in smartphone/tablet design trends. Current initiatives are pointing to sensor integration under the cover glass and we have yet to see a product from FPC.
Estimates
Prominent clients such as Huawei, HTC and Sony

FPC is facing a fast-growing market for integrated fingerprint sensors smartphones and tablets. The order backlog ended Q2(15) on SEK1.34bn after SEK1.25bn order inflow. The volumes were mainly driven by formidable smartphone vendors such as Huawei, Sony and HTC. Other Asian manufacturers contributed as well. Namely: Oppo, Newman, LeTV, Coolpad, Gionee, Meizu, Dazen, ZTE, oneplus and ZUK.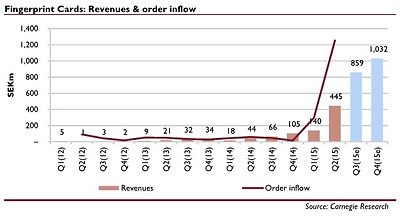 As the company was able to increase its production capacity earlier than expected management lifted revenue guidance to SEK2,500m for 2015e. The company is guiding for approx.. SEK860m in Q3(15e). We estimate revenue of SEK2,476m for 2015e reaching SEK8.25bn in 2017e.

Revenue and gross margin
We expect the main revenue driver to be increasing adoption of sensors in consumer electronics

We expect revenue to grow by 130% in 2016e and 27% in 2017e driven by increasing adoption of fingerprint sensors in consumer electronics. We have built a top-down forecast model for FPC, largely based on forecast growth in smartphones, tablets and notebooks and penetration rates. We expect 31% smartphone penetration in 2015e, reaching 45% in 2016e. Tablet penetration is around 25% in 2015e. We expect to see sensors being integrated into notebooks from 2016e and significant volumes from 2017e. In sum, we estimate total non-Apple penetration to grow from 25% in 2015e to 37% in 2016e and 47% in 2017e.

We have delimited the addressable market to smartphone, tablet and notebook vendors excluding Samsung and Apple. Apple has been using a proprietary solution since buying Authentec, while Samsung uses Synaptics (Validity). We base our global volume estimates on forecasts by formidable industry experts: IDC and Gartner. For 2015–17e we have assumed a 20% market share for Samsung.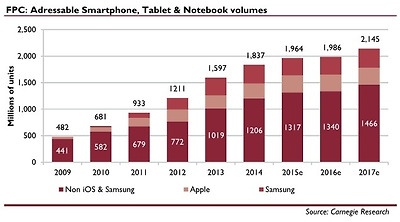 Opportunity within payment cards

There are opportunities in payment card integration that we expect to materialise in 2016 with volumes from 2017 and beyond, not included in our estimates. In addition, FPC is shipping a number of sensors used in the Chinese banking sector. Roughly 10% of H1(15) revenues were non-smartphone related, of which the majority for the Chinese banking sector. 10% of H1(15) revenues is ~SEK58m, or SEK116m annualized, and is considered 'run-rate'.


We account for increasing competition pressuring ASP, gross margin and market share

Due to rapidly changing market dynamics we take a rather conservative stance. We base our revenue forecasts on a market share estimate and ASP assumption. With new market entrants we expect market shares to decline from ~96% in 2015e to 80% in 2016e and 70% in 2017e. With competitive pressure we also assume ASP falling from ~USD3.3 to USD3.0 in 2016e and USD2.5 in 2017e. The most formidable competitors is Goodix, Egistec and potentially Silead.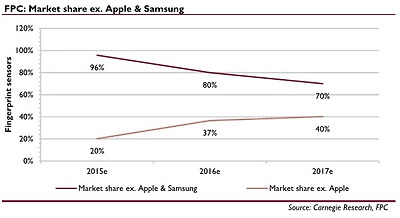 Cautious view on gross margins

With increasing competitive pressure we remain wary of FPC's ability to maintain gross margins. FPC's gross margin inherently scales upwards with falling sensor size as cost falls more than price currently. Hence the management expects the gross margin adjusted for depreciation of R&D expenses and shipment cost will be in the mid-40s. However, we take a cautious stance and expect competitive pricing pressure to offset margin gains. Unfortunately there are no peers against which to benchmark gross margins.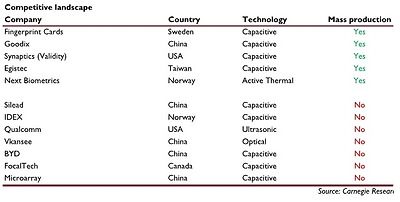 Costs
The main cost is silicon for producing sensors. For 2015e, we expect 77% of cost to be materials. To enable the huge growth ahead, we pencil in significant ramping of sales expenses, increasing administrative expenses and R&D to meet future demand for different sensor applications and continuous improvement of existing technology. FPC is a fast growing organisation which makes it hard to estimate how fast cost will scale. As our base case we estimate a 10% sequential Q/Q opex (excl. COGS) growth through 2015 and 2016e. For 2017e we pencil in 20% Y/Y growth in opex (excl. COGS).


Significantly dilutive warrants programme

Share count and EPS FPC has a significant number of warrants outstanding as a part of employee compensation programmes. Some 11.33% of the share capital will be diluted over the next couple of years with 8.25% for exercise on 6 September–6 October 2015. Our EPS calculation assumes all warrants fully diluted. As the warrants are deep in the money we have assumed full dilution of shares and included SEK160m in our cash flow estimate. The current share count is 58.4m and 65.0m fully diluted.


We calculate a fully diluted EPS(15e) of SEK7.0 growing 232% to EPS(16e) of SEK29.0. We expect EPS(17e) of SEK27.3. The decline in EPS from 2016–17 is explained by FPC fully utlising its deferred tax assets in 2016e. FPC had SEK415m in deferred tax assets at YE(14).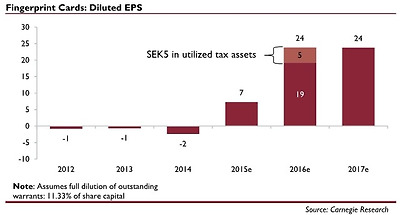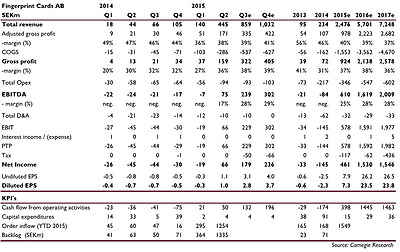 Valuation
Valuating high-growth technology stocks is a difficult task due to a high degree of uncertainty and cash flow well into the future together with limited historical figures. The fingerprint sensor sub-sector is completely new and we have yet to see how its ecosystem will ultimately develop.
To evaluate FPC we have evaluated three approaches: theoretical, DCF and peer comparison.
• A theoretical approach suggests a fair P/E(16) of 28x.
• A DCF suggests a more moderate view and reflects a fair P/E(16e) of 15x.
• A peer-based approach suggests a fair multiple of 13–40x.
We conclude a target of SEK350, reflecting a P/E(16e) of 15x. Our target reflects a 15% premium to the Nordic Technology Hardware sector, trading at 13x P/E(16e). We believe a premium to the sector is warranted due to the high relative growth prospects. We believe the considerable uncertainty linked to how this new sub-sector will evolve will limit upside in the short term. If FPC can maintain its strong market share in the medium term there is a clear valuation upside as reflected by peer multiples ranging from 20–45x P/E.
Theoretical approach
For the theoretical approach we use a Gordon's growth model. Our assumptions are outlined below. The model is driven by earnings growth. We have assumed a 29% average growth rate over a 5-year period 2015–20. With minimal investment the reinvestment ratio is 90%, which yields a 'fair' earnings multiple of 28x.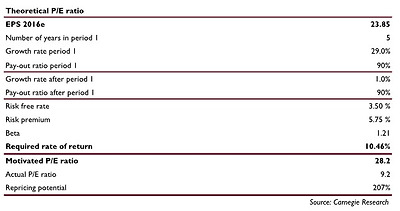 DCF approach
Our DCF assumptions are listed below, where we arrive at a fair value of SEK363.


Peer comparison
There are few direct peers for FPC. However, we compare it to Nordic technology hardware peers and international high-growth technology companies. With superior growth of an estimated 71% in 2015–17e we argue it should be valued among the top percentile of peers. Multiples range from 20–47x and above for 2016 earnings for companies growing above 20%.
Another fingerprint sensor designer in the Nordics is Next Biometrics. However, the company has had little traction with OEMs as yet and therefore estimates are highly uncertain. Thus, the most comparable company in the Nordics is Nordic Semiconductor (NOD). NOD's main growth driver is Bluetooth SMART chipsets, the standard communication standard for devices related to the internet of things. Thus its partly mono product exposure and structural growth drivers are highly comparable. NOD trades at 19x 2016 earnings and has traded at 23x on average for the past four years.
It is also relevant to compare to other international high-growth technology companies. Our selection below is technology hardware companies listed in Europe or the US. The median P/E(16e) for companies growing more than 20% in 2015–17e is 22.5x. The median for semiconductor companies only is 20.0x. The top 75th percentile trades at 46x and above, with median growth of 32%.

As we expect FPC to grow 71% in 2015–17e we argue that the top percentile multiples are warranted. However, Fingerprint Cards is a mono-product company which carries considerable technological risk. Until we see how the how the competitive landscape evolves we find it unlikely that investors will pay a significant premium to the Nordic sector trading at 13x P/E(16e).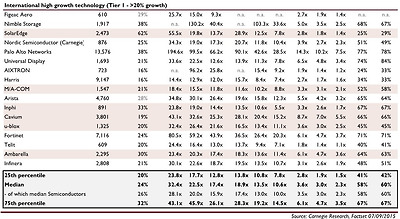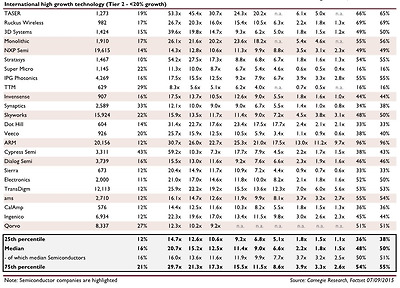 Key risks
Below we have listed what we view as key risks for the investment case.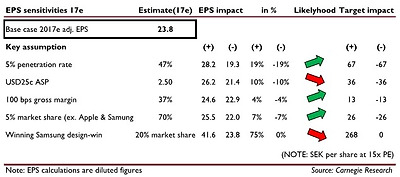 Change in design trends – sensors below the cover glass
There is a constant drive in smartphone and tablet designs for a minimalistic approach. Part of this development has sparked speculation about placement of next-generation sensors. Initially, Apple placed it on the home button and the other OEMs followed. Now we have seen integration on the back and the side. However, many speculate about placement under the non-active front glass. Fingerprint sensors today have proven to work sufficiently only under 'sapphire' glass on the home button. Thus, sapphire glass is used on the home button and another type (i.e. gorilla glass) on the rest of the phone. Many consider sapphire glass too expensive for mass market adoption. However, if sapphire glass is used for the whole screen cover, sensors could be placed under the glass. Technological development may enable sensors below conventional cover glass. However, this has not yet been proven. Idex's presumable work with the glass company Corning may develop a viable product eventually. FPC says it is working on sensor under cover glass, but has yet to show a product. If sensor under cover glass is broadly adopted, without FPC having a viable product, it may shave FPC's market share significantly.

Competitive price pressure

An increasing number of sensor developers are entering the fast growing market and several may be able to produce 'good enough' sensors in a short time. We account for competitive price pressure in our estimates with both ASP and gross margin falling over our forecast period. However, this competition might be more severe than our base case, leading to shrinking margins. With increased competition and relatively little incremental innovation in fingerprint sensors, FPC faces the risk of being commoditised. In such a scenario we could see EBIT margins of 5–10% longer term.
Competing technologies
Competing technologies will pose a risk for FPC, in addition to the above mentioned under-glass sensors. We believe FPC will be a strong player in the capacitive space. However, emerging technologies such as 'active thermal' sensors and 'ultrasonic' sensors may pose a risk. We consider the risk posed by Qualcomm's ultrasonic sensor as the most prominent. It has a strong relationship with OEMs and is able to bundle its sensor with chipsets used in phones. If adopted, the technology is likely to be included in high-end smartphones at first and could lead to a higher drop in market share than is reflected in our estimates.
Penetration rates
Our revenue estimates are largely based on penetration rates for fingerprint sensors in consumer electronics. Adoption may prove to be slower or faster than expected.

Potential catalysts
Samsung design win
Samsung holds ~20% of the market excluding Apple. Samsung currently uses Synaptics (Validity) sensors. Samsung is seemingly dissatisfied with the sensor performance and has brought in Egistec to improve the sensor. However, if this solution continues to bring dissatisfied users, FPC stands a chance to win the design.
M&A

FPC is a mono-product company with a semiconductor technology that would fit nicely with a portfolio of the formidable semiconductor houses, e.g. Qualcomm, NXP or Intel. The EV/sales range in large semiconductor transactions over the past three years has been 3.5–4.5x. This translates to SEK307–394 per share.

Company introduction
Fingerprint Cards AB (FPC) is a fab-less company developing fingerprint sensors based on the capacitive (electrical signals) technology. It has built a global market-leading position in smaller touch fingerprint sensors used in most smartphones/tablets. It was the first and currently one of three companies delivering fingerprint sensors to the largest smartphone/tablet producers of the world, excluding Apple. Synaptics, through its subsidiary Validity, is the second, delivering touch fingerprint sensors to Samsung's handsets. With a surge of smartphones entering the global market in 2015, many have picked FPC as their preferred provider of fingerprint scanner components. Consequently revenue in 2015 is guided at SEK2.5bn, up from SEK234m in 2014, or 970% growth Y/Y.
History
FPC was founded in 1997 with its first-generation fingerprint touch sensors. After being listed in 1998, the company developed several generations of its area sensor, secured several IPs and expanded its distribution network into the US and EMEA regions. By 2007 it was the biggest supplier of touch fingerprint sensors for the Chinese banking sector. Demand and focus eventually shifted towards swipe sensors, for which the first commercial order was in 2011. After Apple's launch of the iPhone 5 with a touch fingerprint sensor, focus shifted back to touch fingerprint sensors. FPC got its first design win in the handset segment in 2012. By 2013, 21 mobiles/tablets carried FPC's technology, and by 2014, 18 more smartphones/tablets were introduced with FPC technology.
Business model and value chain
FPC has one of the broadest product portfolios in the industry with 10+ sensor sizes and types. These include sensors for the home button, backside and side button integration that are ready for mass production. FPC recently announced the 1200 series, which will begin with sensors that can read through zirconia glass being ready for mass production in Q3(15), followed by product releases in the near future. We should expect more product launches in this category and we are aware that the company is working on a cover-glass solution.
The lion's share of revenue stems from the smartphone/tablet segment. However, FPC is also present in other vertical markets such as corporate access in the Chinese banking sector. Fingerprint scanners are generally deployed in a number of vertical markets and segments, but smartphone/tablet markets make up the largest addressable market.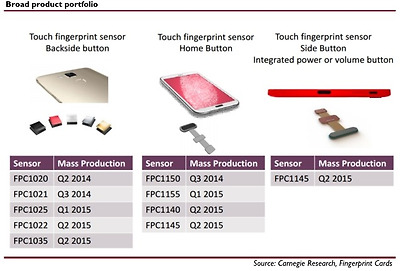 Sales are mainly conducted through distributors either as component sales or as project sales in cooperation with the client. The sales are largely conducted on own account or in cooperation with distributors. China is FPC's primary market through its smartphone and banking market. However, Korea, Japan, Taiwan, North America and India are also important.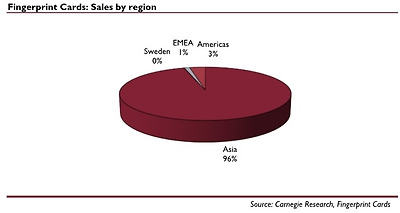 The clients are mainly OEMs, product developers and system integrators. Building relationships with the OEMs is key for increasing adoption of FPC's sensors. Sales efforts are also focused more towards module manufacturers (sub-contractors to the OEMs) as the dominant share of sales is components (the sensor area only, i.e. not including the module). This is important to reach a broader market and for the OEMs to capitalise on competition and de-risk production. FPC has entered into cooperation with several module manufacturers, e.g. Crucialtek, O-film and Dreamtech.
As FPC is a fab-less company, all designs are done in-house while production is outsourced. FPC buys cut silicon wafers from SMIC which are then converted into sensor units. The algorithm is partly proprietary and partly sourced from Precise Biometrics of Sweden. Assembly is done through one of the modules mentioned above.

Following the massive increase in demand and design wins, the company has expanded its workforce to 196, of which 115 are full-time employees and the rest are consultants. More than 20 people do marketing and sales and during 2014 the R&D department comprised 80 employees. The R&D personnel, of which 30% has a PhD, largely stems from the telecom industry. The company currently conducts R&D in four locations across Sweden. The idea is to keep the IP close to home. To further integrate development, FPC acquired Anactum Design AB which specialises in ASIC development.
A mixed bag of advantages
We believe FPC's success is attributable to several competitive advantages. The combination of these has made the company a preferred sensor supplier for the most important market, smartphones and tablets. As FPC is one of several fab-less fingerprint scanner producers utilising the capacitive principle, we believe the main reason for success is its proven manufacturing process and experience with client hardware adaption. FPC can deliver a high quality sensor, performing well comparing to peers, at a low price and with integration precision on the back of long experience.
The purpose of this section is to delimit and discuss competition. As demand for swipe sensors is nearly non-existent in today's application, we focus on touch fingerprint sensors.

Does size matter?
Traditionally, law enforcement and governing bodies have relied on easily detectable, rigid and unique fingerprint traits known as minutiae points. Today, high-security fingerprint sensors are too expensive for integration into mass-market devices. This has forced developers to scale down sensor size to make it affordable. Intuitively, smaller sensor size reduces security as one scan reads fewer unique fingerprint traits (minutiae points). However, FPC claims that its high-resolution fingerprint scanner can maintain security levels by detecting micro traits (e.g. sweat pores).
While other sensor producers claim that micro pores are not a sufficient measure of identity, micro traits are de facto universally approved by consumer electronics OEMs and the payment industry as a sufficient measure of identity today; e.g. Alipay (Alibaba's mobile wallet solution) is standard with most smartphones in Asia and has approved FPC's sensor for payment (<100mm sq).
We believe the consumer will neglect whether a sensor is 50mm sq or 144mm sq. The demand for increased security will be driven by the payment industry or other stakeholders of fraudulent transaction and identity thefts. Hence, a 0.001–0.002% false acceptance rate (FAR) is accepted, micro traits are accepted, and small sensors are in demand (more on this discussion on page 32).
Our thesis is that smaller sensors will continue to be favoured in high-volume consumer electronic applications due to their low-price design flexibility given that security levels remain firm. The more risk-averse online banking/payment vendor can easily apply two-step verification without causing meaningful consumer frustration, i.e. fingerprint plus a 4-digit PIN. We therefore believe designers of small sensors, such as FPC, will be favoured by the lion's share of high-volume smartphone/tablet segments. However, we also believe larger sensors will be applied in niche segments with smartphones and tablets for high security application. For stand-alone purposes, we believe larger size sensors will be favoured.
We have split fingerprint sensors into large and tiny formats. Tiny sensors are focused on convenience and customised unit deployment, whereas large sensors focus on the highest possible security (minimum FAR) while maintaining the high convenience level (minimum false rejection rate). Convenience formats range from small 50mm sq sensors featured in Apple's phones to 100mm sq sensors provided by FPC and Synaptics (Validity). Security focused sensor formats range from 144–230mm sq.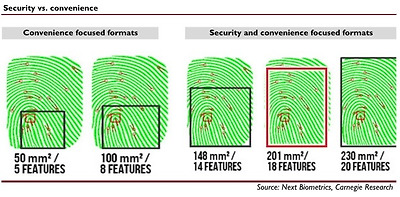 Sensor developers need to reduce sensor sizes to meet format restrictions posed by smartphone and tablet producers. However, our research concludes that tiny formats cannot securely identify a person without the use of micro traits.
Good enough? Lower size equals lower price
If the sensor size is a subjective matter, as proven de facto, then competition should revolve around price versus performance within segments. As mentioned, FPC is strong in smartphones and tablets, while other competitors such as Next Biometrics are strong in higher security applications or stand-alone applications.
In this section we focus our cost analysis on the active thermal principle applied by Next Biometrics and capacitive sensors used by companies such as FPC, Goodix, Synaptics (Validity) and Egistec. We view these as the only viable technologies for mass market to date. Qualcomm has released a new ultrasonic sensor, but it is still in development and we consider it unlikely to be competitive on price. Idex expects to launch a capacitive sensor during H2(15e) (more on page 36).
In brief, we conclude that the polysilicon solution applied by Next Biometrics is and will be the cost leader for the foreseeable future when comparing like-for-like sensor size. However, capacitive sensor designers can reach similar cost when scaling down the sensor. Hence, the capacitive sensors using silicon as base material will not compete in the same segment as larger polysilicon sensors.
Cost breakdown
Most of the cost for a capacitive sensor producer is silicon. Silicon sensors are mostly produced using 8in silicon wafers. The approximate cost of one 8in wafer is ~USD500–600 according to TSMC, but can vary depending on volume and customer relations. An 8in wafer will fit about 450–176 sensors that measure 62–148mm sq. This makes the silicon unit cost USD0.6–1.7. The polysilicon unit cost per sensor is ~USD0.6–1.0 for sensor sizes 144–201mm sq.
Technological advancements over the years have allowed for production of 11.8in wafers, which lowers the unit cost for silicon producers. Industry expert IC Insight estimates that 11.8in wafers will represent 70% of wafer capacity by 2017. A 17.7in wafer will fit 759 sensors measuring 148mm sq. However, the productivity gain from scaling up from 8in to 11.8in and to 17.7in is only 15–20%, according to ICE Corporation. However, unit cost for the silicon sensor element is not likely to be lower than polysilicon.

Illustrated below is an indicative unit cost comparison between the polysilicon sensor and the silicon sensor manufactured at leading silicon foundries such as TSMC and UMC.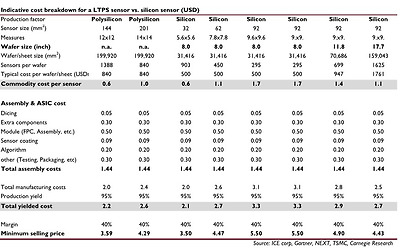 The assumptions used in the calculations above rely on ICE Corporation statements about productivity gains from increasing wafer size and Next Biometrics' statement about unit price.
Silicon sensor producer assembly and ASIC costs are based on Next Biometrics' industry insight. The assumptions are:
• 20% productivity gains from increasing wafer size.
• USD1.0 polysilicon unit price. The most important cost is the actual raw material base component, the silicon. Assembly and ASIC costs can fluctuate among producers.
Our cost analysis shows that silicon 148mm sq sensor costs will reach only USD2.8 compared to a USD0.6 for 144mm sq polysilicon sensors. Therefore it is unlikely that silicon producers can compete with the polysilicon sensors on price in the foreseeable future if producing the same sizes.
However, smaller silicon sensors enable producers to reach commodity unit costs as low as USD0.6 when reducing the size to 32mm sq. FPC delivers sensors from 92mm sq with its old 1020 model to as low as 32–62mm sq. As silicon is the main cost component, COGS effectively scales proportionally with sensor size.
FPC states that it has an ASP of USD3.0–3.5 which translates into a unit cost of USD1.8–2.1, which coincides well with the calculations above. Keep in mind that FPC largely sells the fingerprint component only, which enables reduced 'assembly and ASIC cost', as displayed above.
Sensor producers have made statements about "lower" production costs, although no specific production costs or technological improvement have been mentioned. But Idex's off-chip solution looks promising and will start sampling in H2(15). This sensor claims to use a smaller amount of silicon. We view all sensors sizes below USD4 as mass market applicable. FPC has an ASP of about USD3.0–3.5 (~50% module and 50% sensor head only).
Competition among small capacitive sensors
Capacitive and active thermal technologies are the only ones eligible for mass market currently. The only designer using the active thermal technology is Next Biometrics and its active thermal principle. Other technologies are currently inapplicable for mass market (see page 36). Next Biometrics focuses only on larger sensor sizes, which has rendered them less attractive for size sensitive application such as smartphones and tablets. Competition between the two technologies is likely in notebooks. However, fingerprint scanner adoption in notebooks is lagging for reasons discussed on page 30.
Competition among capacitive sensor designers is more diffuse. Here we focus only on competition in the small touch fingerprint sensors. Several designers are able to produce 'good enough' sensors. Today there are at least five significant designers, namely Fingerprint Cards (Sweden), Goodix (China), Egistec (Taiwan), Synaptics (US) and Silead (China). However, other designers are entering the market, but with no material traction yet, such as Idex, Qualcomm, Vkansee, BYD, FocalTech and MicroArray trying to grab a share in the fast growing market.
We believe these factors have determined FPC success to date, rated by importance:
• First mover advantage - proven production and technology track record.
• Attractive price versus performance.
• Good design flexibility due to broad portfolio and small size together with shape and colour optionality.
• Accumulated integration experience which reduces time to market for OEMs.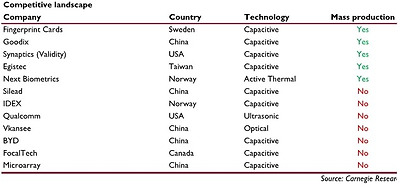 New players and reading through glass
Other capacitive sensor designers are planning to enter the market and several are sampling sensor chips, notably Idex of Norway. Another factor to consider is the ability to integrate sensors under the cover glass of smartphones and tablets.
Goodix is sampling this solution in collaboration with panel producer TPK. Idex has showcased this technology and aims to start sampling by Q4(15). Recently, Idex announced collaboration with a Fortune 500 distributor, which we read as being the glass manufacturing company Corning. If so, it seems Idex has been chosen as the viable sensor technology for in-glass sensor solution. Corning is the manufacturer of the popular 'gorilla glass' used in many smartphones today. FPC states it is possible to read through cover glass with its chips; however, no applicable solution has been announced to date. Management has also stated that there is demand for such a solution, but nothing has materialised mainly due to performance issues.
FPC recently released a new sensor series able to read through zirconia glass and we should expect more announcements in this product series.
Qualcomm's ultrasonic sensor also claims to read through both cover glass and other material. We believe the standard for sensor placement is set by smartphone 'trend-setters', most notably Apple. Hence, a move to a functioning in-glass solution could shave FPC's market share if the company cannot provide a good solution.

Market overview
The prospective size of the total addressable market is undoubtedly big. FPC is strong in the smartphone and tablet segment. Opportunity persists in the notebook segment and prospective application in payment cards is in development. In traditional markets where security is paramount and format applicability is less prioritised we believe companies with inherent lower production costs, i.e. Next Biometrics, stand stronger. In this section we will focus on the consumer electronics market.
Consumer electronics
We calculate the current total consumer electronics total addressable market for FPC is USD1.67bn in 2015e. Underpinned by trends such as the convergence of physical and digital point-of-sale systems, online banking, cloud computing and 'the internet of things', we believe the total addressable consumer electronics market in 2017 will be USD2.15bn (consumer electronics market only). We view the fingerprint sensor market as two principal segments: consumer electronics and the traditional market (e.g. access control, time and attendance, government, and law enforcement).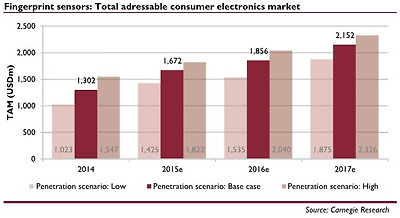 Consumer electronics is the growth market for fingerprint technology. The addressable market value will depend on how fast the market adopts the fingerprint reading standard. To assess the addressable market for FPC, we have built a forecast model based largely on industry experts and excluded devices running on Apple's OS. We have also applied several scenarios of adoption and ASP development described below.
Payment cards
Opportunity may reveal itself in integration of fingerprint sensors in credit cards and debit cards. However, there is little traction as yet. The challenge has been integrating a silicon sensor into flexible plastic card while maintaining durability of the sensor and of the card itself. FPC expects development in this area to materialise in 2016 at the earliest. The company has an ongoing project with payment card or smart card designer of Norway on behalf of Mastercard. Zwipe announced on 24 June that it had added 10 channel partners and is experiencing increasing demand for its solutions.
Idex of Norway has announced an agreement with a "global payments company" for the development of biometric payment cards. It has also successfully demonstrated its flexible sensor in an ISO-compliant flexible card. About 14.4bn payment cards were issued in 2012 (Nielsen Report 2013). This number is expected to grow to 20.6bn by 2017e. In addition, the average replacement rate of payment cards is ~2–3 years. If penetration reaches (say) 10% by 2017e with a sensor ASP (sufficiently low at ~USD100–150 per sensor (sensor head only), this represents an addressable market of USD1.4bn–2.2bn. We have not added payment card volumes to our estimates.
Traditional verticals
The traditional verticals are hard to quantify, but sources lead us to believe this is a multi-billion dollar market. Industry experts estimate the potential for fingerprint solutions in the banking sector alone to be ~USD1.0bn–1.2bn. NEXT estimates the traditional market to be 9m–12m sensors sold per year in 2014. As cost per unit has been reduced significantly in recent years, additional growth will come from replacement of conventional security measures such as PIN codes and OTP generators. Due to FPC's focus on consumer electronics and, in our view, less competitive position in traditional segments, we will focus on consumer electronics in this report.
Consumer electronics market
We have divided the consumer electronics market into three categories: smartphones, tablets and notebooks (including accessories). For the purpose of assessing market potential for fingerprint sensors, we will provide an outline below before assessing growth potential.
When estimating FPC's addressable market we start with forecasting growth in personal electronics such as smartphones, tablets and notebooks. Based on statements by manufacturers and current trends, we firmly believe that fingerprint reader integration will become the new standard.
However, this applies only to high- to mid-end and niche corporate models in the short term. Here we are primarily seeking to:
• Assess the market trend for smartphones, tablets and notebooks.
• Delimit the market to segments outside Apple OS devices, as Apple Inc. uses proprietary sensor solutions (Authentec).
• Assess penetration of biometric security solutions.
Total addressable market (TAM)
We have built a forecast model based on estimates by leading industry experts IDC and Gartner. We have excluded products from Apple. We expect smartphone tablet and PC shipments to grow from 1.35bn in 2014 to 1.83bn by 2017e and 2.10bn by 2020, a CAGR(15–20e) of 5.0%.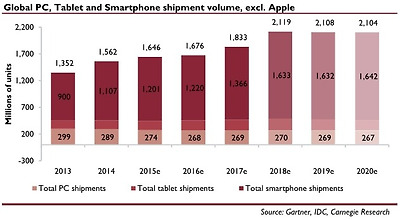 Not all devices will have fingerprinting technology. Therefore we have outlined three scenarios for fingerprint technology adoption. The adoption rate will depend on several factors including unit price, economic development, and growth contribution by cloud computing, online banking and the internet of things. In our three penetration scenarios we outline three adoption rate trajectories.
The market value will depend on how fast it adopts fingerprint reading. Our base case assumes 41% blended penetration in 2016e. In the low and high penetration scenario we pencil in total adoption of 33% and 51% respectively.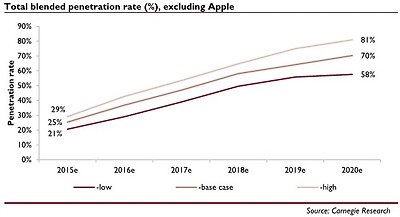 Average selling prices
We do not believe the USD3–4 unit price for small sensors used today is a limiting factor. Assessing the bill of materials (BOM), leading industry sources state that sensor integration is viable only if the additional cost is below USD4. Illustrated by the table below, the implied cost increase for fingerprint integration is below USD4 if we assume the cost of other sensors is in the area of ~USD1.0, below the USD4 threshold.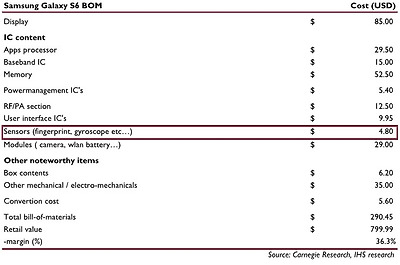 However, we are seeing handsets with integrated fingerprint sensors selling as low as USD120 which would imply a total sensor cost of ~USD1.5 using the same ratio. Today FPC sells for ~USD3.5–4.0 (full module/LGA/BGA).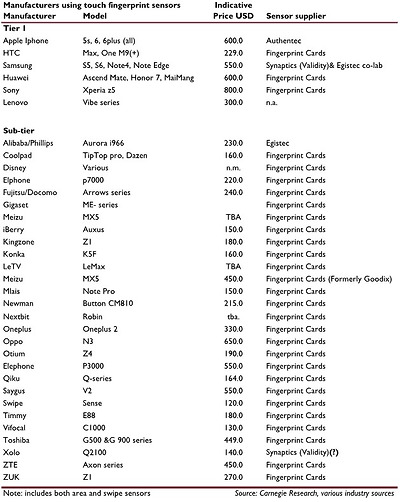 ASP is inversely correlated with volume, competition and technological advancement. As such we believe sensor price will continue to be pressured toward USD2 and below for the coming generations of affordable low-end smartphones out of Asia. We believe smartphone prices will continue to drop as smartphone penetration increases in low-cost countries. Companies such as Telenor point to an inflection point for mass market adoption in these countries around USD50–100 and below. This means the total BOM should be less than USD45–80.
For fingerprint sensor integration in such low-end smartphones we would need to see ASP down to USD1.5–2.0 before being viable. This should be possible through economies of extreme scale, pressured margins across the value chain through competition, and technological advancement in wafer production and more efficient component integration.
Please note that we use full module cost when referring to ASP. We are aware that some manufacturers are selling only the sensor component for less than USD3.0 at the moment while module and assembly are sourced through third parties, e.g. FPC. Hence, the general ASP used in this calculation is slightly higher for 2015 compared to the USD3.3 used for FPC estimates.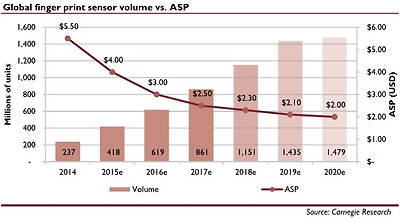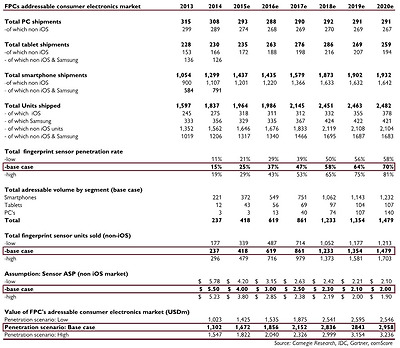 Smartphone volumes
Fingerprint integration in smartphones was started by Apple and Samsung. The smartphone market is high volume with annual sales of 1,300m units in 2014, according to IDC estimates. The market is characterised by long lead times and focus on format applicability. Lead times are likely to be 6–9 months according to several sources.
The biggest challenge for phone manufacturers is how the phone should look to be a commercial success. Technological progress has made the fingerprint sensors small enough to fit smartphones. Higher requirements are driving the smartphone market towards more secure solutions such as small area and away from swipe sensors.
Tier 1 smartphone makers are most likely to be the first to adopt a fingerprint sensor. We consider Tier 1 the top five (top six including Apple) as Tier 1. Some 60% of the market in 2014 for smartphones was Tier 1 (Apple, Samsung, Huawei, Lenovo, LG and Xiaomi). Among the top six, Apple, Samsung and Huawei have integrated an fingerprint sensor in the flagship models. This represents 50% of total volume. If fingerprint sensors are the new standard for these suppliers it implies ~640m sensors sold per year or ~580m excluding iOS. Lenovo and Sony released new products with a fingerprint sensor in August 2015. Other global players such as LG, Microsoft/Nokia and Xioami are still sitting on the fence (Xiaomi is rumoured to include the sensor in its new flagship model).
At USD4.0 per unit, Tier 1 implies a USD2.3bn market alone. In addition, brands such as LG, Microsoft/Nokia and Xiaomi are likely to adopt the fingerprint sensor due to its massive popularity and requirement for mobile wallet initiatives such as Alipay in Asia (Xiaomi is rumoured to be including a fingerprint sensor in its next flagship model).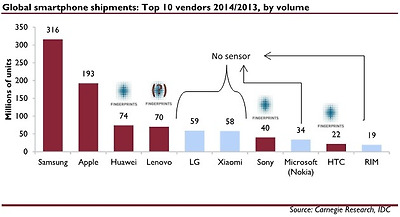 The global smartphone market is expected to grow by a CAGR of 6.1% in 2015–17e according to data compiled by Gartner and IDC. We expect 1,932m units to be shipped in 2020, up from 1,300m units in 2014. Industry experts estimate 2018e to be the inflection point of mass adoption due to affordable smartphones entering the market.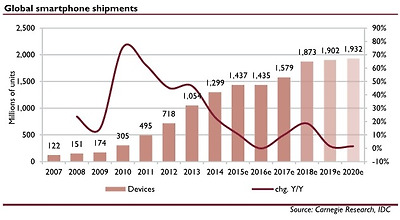 According to IDC, Apple iOS had ~15% of the total smartphone market in 2014, and is expected to maintain 15% by 2020. Apple's market share in the US far outweighs the market share in China, by 36% to 14%. As most growth is likely to come from the Asia Pacific region, we expect the growth rate in android-based devices to be faster than iOS devices.

The total number of non-iOS smartphones shipped in 2014 was 1,107m. By extrapolating the market share we estimate that 1,642m non-iOS devices will be shipped in 2020; CAGR 6.5%.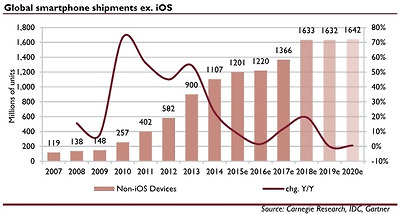 Tablet volumes
When fingerprint sensors are made sufficiently cheap and become standard in smartphones, they is also likely to become standard in larger tablets. We believe that one sensor will be fitted to an entire ecosystem to increase uniformity. For example, Samsung is likely to have the same sensor in the phone and tablet.
In 2014, a total of 230m tablets were shipped. According to Gartner, tablet shipments will reach 259m units in 2020, a CAGR of 2%. Estimates from industry experts have been cut severely in recent years. The popularity of the tablet was reduced by the increasing size of smartphones, or 'phablets', and the increasing portability of notebook computers.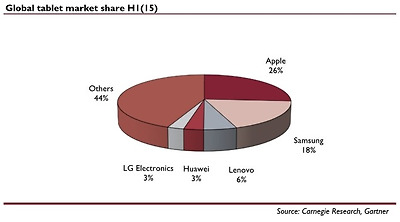 IOS's market share in 2014 was 28%. IDC expects a decline in Apple's market share to 23% in 2020, as Android devices have a stronger foothold in Asia. If we assume that Apple's market share will fall proportionately over the forecast period, 260m non-iOS tablets will ship in 2020.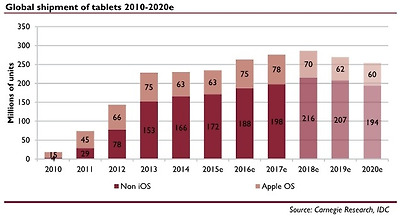 Notebooks
In June 2013, Microsoft demonstrated a touch fingerprint sensor together with a beta version of Windows 8.1 which will be standard for authentication, enhanced security, and to improve ease of use. Our understanding is that it will push the entire Windows ecosystem towards biometric identification. This entails a second growth opportunity in addition to the traditional market. Today, there is no significant adoption of fingerprint sensor in notebooks. Our channel checks report that notebook integration is less appealing due to the innate support for SPI from sensor modules. This is a standard commonly used in smartphones and light applications. Notebooks use USB. Hence, by integrating fingerprint sensor modules today, OEMs have to use a USB converter which by itself adds another USD1–2 to the BOM. However, we expect notebook adoption to follow increasing consumer adoption of fingerprint sensors through other consumer electronics.
There are about 1.5bn users of the Windows OS today. Even though the market is stable, there is significant turnover of stock. According to Microsoft, 100m new licences for Windows 8 were sold during the first six months after the launch. Furthermore, when Windows establishes a new standard it has a tendency to spread to other ecosystems. If we include all devices with the potential to be fitted with a fingerprint sensor in the broad Windows ecosystem, it is 1.4bn–2.0bn devices. This includes notebooks, desktop computers, gaming consoles and accessories.
PC and notebook sales have suffered from substitution to tablets. Sales fell on average 7% in 2011–13. However, notebooks will contribute with significant demand in the coming years as more than 300m units are sold annually. Global PC shipments totalled 316m units in 2013, versus 351m 2012, and are expected to increase slightly from this level.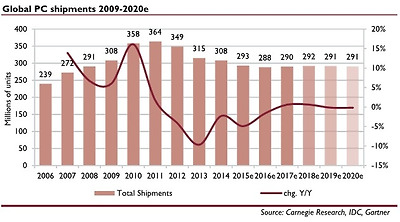 Apple holds a relatively small market share in the PC market. For our forecast we have assumed a stable market share for iOS, or Apple, based systems.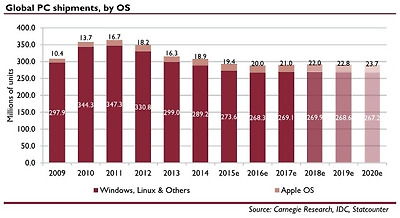 Fingerprint technology
We have divided the fingerprint sensor into two segments: convenience-focused and security-focused. Convenience-focused formats are small and provide a simple alternative to username/password combinations used for accessing personal devices. Security-focused formats are larger and provide a range of credible references as they are used by corporations for access control, time and attendance, and point of sales purposes.
There are currently three primary uses of biometric data for high security purposes:
• Domestic security and law enforcement: i.e. automated fingerprint identification systems (AFIS), capable of rapidly determining an individual's identity, previously used identities, and past activities.
• Enterprise and e-government services: administration of people, processes and technologies.
• Personal information and business transactions: business plans that meet customer demands for services at any time, from any location and through many communication devices.
The convenience segment has focused primarily on replacing username/password combinations where very high security is not necessary. To our knowledge, these are not accepted by the payment industry as stand-alone user verification.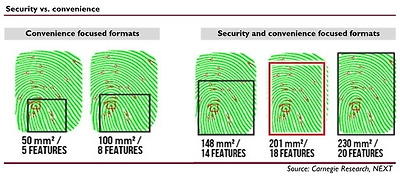 Security versus convenience – does size matter?
Sensors come in different sizes and shapes. According to the Federal Information Processing Standards (FIPS) publication 201, a sensor must measure at least 211.2mm sq, produce 500 pixels per inch (PPI), and 8-bit per pixel is to be approved for government use. This effectively disqualifies most fingerprint sensors. However, compromises can be made for a one-to-one matching purpose unlike one-to-many, such as the AFIS (automated fingerprint identification system) used by the US government.


To achieve a certain level of security a sensor must read enough unique traits on one finger to avoid false acceptance.

Next Biometrics, one of FPC's competitors, firmly states that lower sensor size equals lower security. This is based on the assumption that a smaller sensor can detect fewer unique fingerprint traits (minutiae points) in one scan. However, this is counteracted by claims from several other manufacturers that the use of micro traits (i.e. minor unique traits such as sweat pores) enables equal security. Evidently, micro traits are changing with time and wear. Thus, some argue it should not serve as a reliable measure of identity. If these micro traits are changing, the false rejection rate should increase and potentially build consumer frustration. We can see this as a problem in stand-alone fingerprint scanner solutions. However, for applications such as smartphones, the consumer can easily enrol a new set of fingerprints.
The facts tell us that micro traits are universally approved by consumer electronics OEMs and by the payment industry as a sufficient measure of identity; e.g. Alipay (Alibaba's mobile wallet solution) is standard with most smartphones in Asia and has approved FPC's sensor for payment (>100mm sq). The FIDO alliance, a member organisation of fingerprint designers and counterparts, is developing a standard for sensors. However, given that the stakeholders are several designers, we doubt it will be ground-breaking or exclusive.
The development in FPC's revenue mix tells the same story. Sales of smaller sensors are increasing as FPC manages to maintain security levels (using micro traits) while scaling down the sensor. Smaller sensors are cheaper and yield greater design flexibility and are thus favoured by OEMs in consumer electronics. FPC's management points to 0.001–0.002% FAR as the accepted security level. This means one falsely approved fingerprint in 100,000 or one in 50,000.
We believe the consumer will disregard whether a sensor is 50mm sq or 144mm sq. The demand for increased security will be driven by the payment industry or other stakeholders of fraudulent transaction and identity thefts. Hence, 0.001–0.002% FAR is accepted, micro traits are accepted, and small sensors are in demand.

The question if this will change is highly relevant. Increasing government, corporate and media attention is focusing on online security, most notably the data breaches at Home Depot, Kmart, Staples and JPMorgan. Hence as transaction volumes increase and identity theft and frauds increase, we might see demand shift towards larger sensors.
Our thesis is that smaller sensors will continue to be favoured in high-volume consumer applications due to their low-price design flexibility given that security levels remain firm. The more risk-averse online banking/payment vendor can easily apply two-step verification without amassing huge consumer frustration, i.e. fingerprint plus a 4-digit PIN. We therefore believe designers of small sensors, such as FPC, will be favoured with the lion's share of high-volume smartphone/tablet segments for the time to come. However, we also believe larger sensors will be applied in niche segments with smartphones and tablets for high security applications.
Can algorithms compensate for size?
Various sensor algorithms have been around for many years. Minutiae-based systems have been the dominant solution in commercial systems and quality critical open mass-market applications. Pattern-based algorithms have primarily been applied to small format sensors.
Algorithms have improved gradually over the past decade, but they cannot replicate the security that a solid picture can. No algorithm can compensate for the fact that a small sensor will capture a smaller portion of a finger. However, algorithms can improve the scanner effectiveness and speed when evaluating the unique minutiae or micro traits.
Why fingerprint security?
The most common approaches to identification to date have relied on access cards and username/password combinations. These methods are insecure for users and organisations.
There are three levels of authentication:
• Something you have (token – a key, card or badge).
• Something you know (password, PIN, a memory).
• Something you are (biometric trait – fingerprints, iris, voice etc.).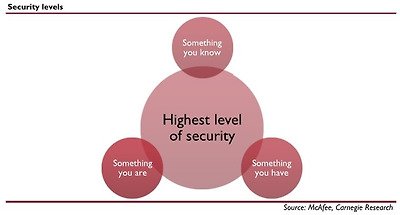 Passwords are the most common identification method today and are universally recognised as a liability as the phrases are fairly easy to guess using software, or to steal. In most cases a person has several passwords which for organisational matters and ease of remembering are simplified. Single-sign-on services that gather all passwords under one have gained popularity, making it possible for criminals to acquire all passwords by acquiring one. Passwords' apparent lack of security was recently highlighted when the 'heartbleed' bug was discovered. The bug was a scripting error discovered in the OpenSSL cryptographic software. This software is used by 66% of all web servers and allowed others to retrieve information such as passwords and other sensitive information untraced.
Since the beginning of 2004, reports of card fraud have exploded and banks are looking for ways to protect the online banking channel. Different approaches have been implemented to cope with various fraud schemes.
These methods include:
• PIN codes. • one-Time-Password (OTP) sheets and tokens.
• Transaction specific OTPs.
• OTP by SMS.
• Smart cards and USB tokens.

A study by Datagenics and McAfee found that 10% of all PIN codes can be guessed in one attempt and that 17% of people in Europe have been victims of credit card fraud. The average victim lost USD1,800. The total amount of fraud committed through credit card related crimes was USD650m in the UK alone and USD11bn (+14.6% Y/Y) worldwide. The fraud rate (as a percentage of total transaction volume) is slightly above 5bps. There is an apparent need for better solutions.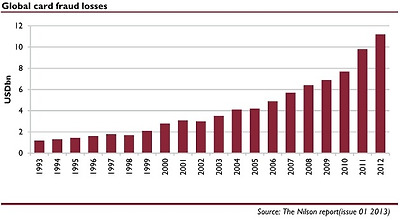 The majority of frauds relate to card-not-present (CNP) frauds. CNP transactions happen when a purchase is made through a physical or online merchant while the cardholder is not present. Often the merchant has no good way of identifying the person or transaction.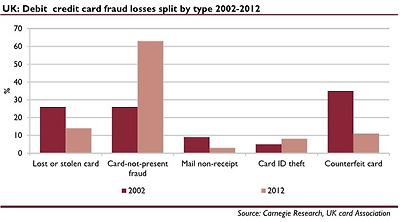 OTP generators (token, sheet, SMS or calculator) and smart cards are the predominant way of authenticating transactions. The smart card is used together with a pin code and requires a smart card reader. Both methods are commonly viewed as the best fraud prevention methods to date.
The hardware and software required to facilitate use of the smart card or OTP generator are either too low in terms of security or offer too little in the way of convenience. In the UK, an average of 33% of banking clients feel that the security measures in place are "a lot of hassle" or "a little hassle". Hence there is demand for a more convenient solution.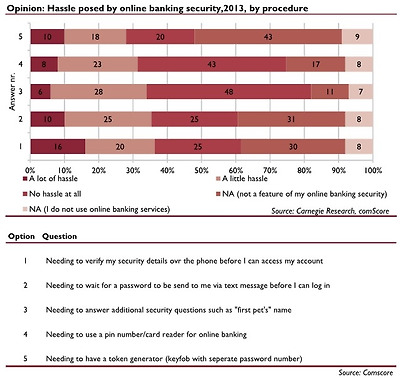 To achieve the highest level of security one would have to provide authentication level no. 1 through 3, e.g. something you have, know and are. Biometric traits such as retina, face, voice and hand geometry are the alternative to fingerprints. Technology reading these traits has been unsuccessful due to a high false acceptance rate (FAR) and high costs. A reader of these traits can cost USD10–500 and usually requires integration costs. These solutions have been implemented only at especially secure locations where authentication by fingerprint is not enough.
Thus the only cost-efficient biometric reader today is the fingerprint reader. A fingerprint reader approved for authentication, issued to every online and mobile-bank user seems viable. In addition, customers are turning away from alternative banking services such as payday loans, check-cashing services, or a pay-roll card and towards online solutions. In our view, this is the major driver for fingerprint sensors.
Fingerprint sensor technologies
The analysis of fingerprints for matching purposes requires comparison of print pattern features. They are aggregates of ridges and minutiae points. The three basic ones are arch, loop and whorl. The major minutiae are ridge endings, bifurcation and short ridges. A fingerprint sensor captures a digital image of the pattern which is processed to create a biometric template.
Several fingerprint reading technologies have been developed over the past decade. Below we will explain the technologies in a mass market context.

Optical
Optical fingerprint imaging involves capturing a digital image using a small lens and light-emitting phosphor layer that illuminates the surface of the finger. A scratched or dirty touch surface can cause a bad image of the fingerprint and it is relatively easily fooled by a 'fake finger'. In addition, the nature of this technology does not allow it to be integrated into small devices. Hence it is not viable for mass market production. However, unlike capacitive sensors, optical sensors are not susceptible to electrostatic discharge damage (ESD), which is why this technology is found in larger applications and static installations.
Ultrasonic sensors
Ultrasonic sensors use high-frequency sounds to penetrate the outer layer of the skin where the reflected wave measurements form a digital image of the finger. This provides verification of a live finger. This makes the FAR and false rejection rate (FRR) low. Traditionally, this technology has been slow, expensive, bulky, and too data intensive for most access control applications. However, Qualcomm has introduced a new ultrasonic sensor, labelled SenseID, to be integrated into its Snapdragon chipset used by many phone vendors today. This technology looks promising as it can read through most materials and with higher security than common tiny touch fingerprint sensors as it produces a 3D image of the finger (versus 2D from capacitive sensors). Qualcomm expects snapdragon chipsets with support for this technology to be on the market by H2(15).
Capacitive sensors
These sensors use capacitor plates to image fingerprints. Skin is conductive enough to produce a capacitive coupling with an individual element on the array. Ridges being closer to the detector have higher capacitance and valleys have lower. They can be sensitive to ESD but insensitive to ambient lighting and are more resistant to contamination than some optical designs.
We differentiate between passive and active capacitance: active capacitance uses a charging cycle to apply voltage to the skin before measurement takes place, passive sensors do not. Active capacitance sensors measure the ridge patterns of the dermal layer like the ultrasonic method. Again, this provides low FAR and FRR.
RF and pressure sensors
RF sensors use a low frequency signal that is applied to the finger and then read by the detector array, with each pixel operating like a tiny antenna. This technology has the same benefits as an ultrasonic sensor. RF technology is often deployed together with the capacitive principle.
Pressure sensors can be very thin. There are two types, conductive film detectors and micro-electro-mechanical devices (MEMS). Conductive film detectors use a double-layer electrode on flexible film. MEMS is a newer technology that uses tiny silicon switches on a silicon chip. At the moment pressure sensors are difficult to coat and have a specialised manufacturing process making it too expensive for mass market viability.
Passive thermal sensors
Thermal sensors can convert changes in temperature into a specific voltage. When a finger touches the sensor, it reads the temperature in the ridges. An image is created by the skin-temperature ridges and the ambient temperature measure for valleys. A drawback is that the temperature change is dynamic and it only takes about a tenth of a second for the sensor to reach the finger's temperature. The sensor requires heating to create a temperature difference of at least 1 degree centigrade.
Active thermal sensor
The active thermal principle has solved the problem related to temperature difference in the conventional thermal sensor. A low power heat pulse is applied to each sensor pixel over a short period of time and a response is measured. This is quite large and different for pixels in proximity to a finger's ridge or valleys. The proprietary ASIC reads, processes and communicates the signals into a high resolution image to the host system.

Mass market production – what are the determinants?
We have identified four characteristics that enable fingerprinting for mass market application. By mass market we mean the possibility of integration into devices using or applying authentication at some level including notebooks, laptops, phones, tokens and corporate access.
Security
The sensor must be able to authenticate a person with a sufficiently low FAR rate. Going forward, all signs point toward a need for securely identifying individuals. Currently, the payment industry accepts the use of 0.001–0.002% FAR on sensors in consumer electronics. However, we believe fingerprint application on a stand-alone basis will pull towards the same requirements as law enforcements. i.e. 8–12 minutiae points.
Convenience
The convenience level of a sensor is measured by the false rejection rate (FRR). It measures the probability of rejecting the correct fingerprint. For mass market applicability it should be able to read a fingerprint correctly in over 98–99% of times according to the industry. High FRR will naturally entail frustration and low consumer adoption. To obtain a low FRR, a sensor must be able to read the fingerprint when wet, dry, damaged and cut. It must also be scratch and shock resistant as well as being durable regarding ESD.
Format applicability
Today's mass market applications for fingerprint sensors require sensor formats that will fit their designs, i.e. smartphones, USB tokens, key fobs. The sensors must be sufficiently customisable to meet requirements for colouring, size, flexibility and power consumption.
Cost
High volume markets for fingerprint sensors will not have margins to sustain high prices. According to Microsoft, fingerprint sensors must cost less than USD4 for implementation in all devices.

Competing technologies
We conclude capacitive and thermal sensors are the only viable technology for mass market application today. The ultrasonic principle from Qualcomm looks promising. However, we believe the production cost will be higher than small capacitive and thermal sensors due to the complex nature of the technology currently.
Passive thermal and capacitive swipe sensor: Users of this technology apply different pressure, angle and speed to the swipes. Complex algorithms have so far failed to compensate sufficiently for inconsistent swipes. Hence, these sensors have failed to produce low FRR in a high security environment. Manufacturers of both notebooks and smartphones are moving away from swipe towards touch fingerprint sensors.
Optical sensors: these sensors are big, which makes them unable to fit into today's smaller devices. A company called Vkansee has developed a small optical fingerprint sensor, but we have yet to see it sampling or mass production.
Pressure and traditional ultrasonic sensors have too complex production methods to be commercially viable. However, Qualcomm recently launched a new ultrasonic prototype sensor which could prove to be viable. At this point we do not know performance or price, but we believe it is unlikely that it could compete on cost. That is, unless it is bundled with the chipset from Qualcomm and poses no real addition to the BOM. However, large scale adoption is likely to happen over time (1–3 years).

Appendix
Management
Jörgen Lantto – CEO – stepped up as CEO in May 2015 after being Executive VP CTO since 2013. He is a technical college engineer and has experience as CTO at ST-Ericsson for three years before moving to Fingerprint Cards. He worked 22 years at Ericsson. He took over the position from the previous CEO Johan Carlström who stepped down to focus on business development within the company. Johan Wilsby – CFO – became CFO of Fingerprint Cards in 2015. He has previous CFO experience from Transmode, HP Nordic region, and for Microsoft region Western Europe since 2004.
Board of directors
Urban Fagerstedt – Chairman – currently works as VP of R&D with Huawei technologies in Sweden and has an MSc in electronics engineering. Over the past five years he has experience from Ericsson's Radio Networks design unit. He is a major shareholder in FPC.
Katarina Bonde – board member since 2015. She currently sits on the board of Propellerhead Software AB, Micro Systemation AB, Image Systems AB, Mycronic AB, Avega Group, Nordax Bank AB and Birger Jarl Fondkommission AB. She has had other directorships in Sweden and the US as. i.e. Chairman of DIBS Payment Services Sverige and Chairman of Netreflector, Inc. She holds no shares.
Alexander Kotsinas – board member – is partner in the venture cap fund Nexttobe AB.
Lars Söderfjell – board member – currently is head of strategy & case research at Ålandsbanken and chairman of the Board of Sunfloro AB. He has long-standing experience of senior executive positions in the fields of equity research and asset management from companies including Myrberg Fondkommission, Danske Bank, Handelsbanken and ABG Sundal Collier. He holds shares in FPC.

Carl-Johan von Plomgren – board member – is currently employed as sales director Northern Europe & chief compliance officer, Villeroy & Boch Gustavsberg. He is board member of Villeroy & Boch Gustavsberg AB, Villeroy & Boch Gustavsberg AS (Norway), Villeroy & Boch Gustavsberg AS (Denmark) and Villeroy & Boch Gustavsberg OY. He has considerable professional experience from senior positions in the IT industry during 1987–2001, gained from such IT companies as Dell, Compaq and WM-data, and subsequently, as of 2001, from industrial and finance companies, such as General Electric, Havells Sylvania and Villeroy & Boch Gustavsberg. He holds shares in FPC. J
an Wäreby – board member – is currently employed as Senior VP and head of Group Function Sales & Marketing at Ericsson. He is chairman of the Board of LM Ericsson International AB and during 2001–11 was a Board member at Sony Ericsson Mobile Communications AB. He does not hold share in FPC.

Shareholder structure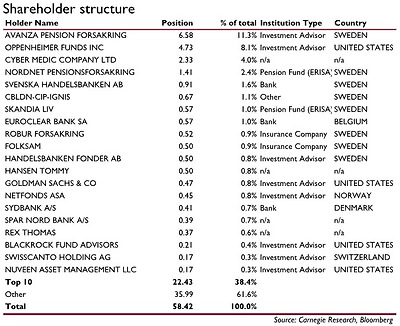 Historical equity issues
FPC cards has issued 58.4m shares in total, 22.5m of which through exercised warrants. In total, it has issued shares for SEK520m, of which 87m through warrants. The company states that it does not need further capital injections.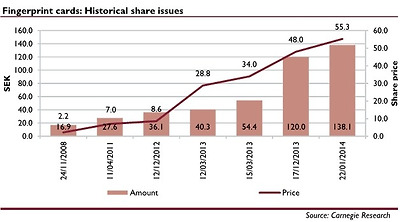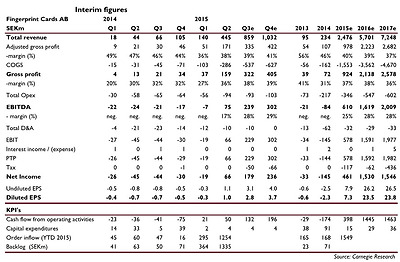 Share data & key ratios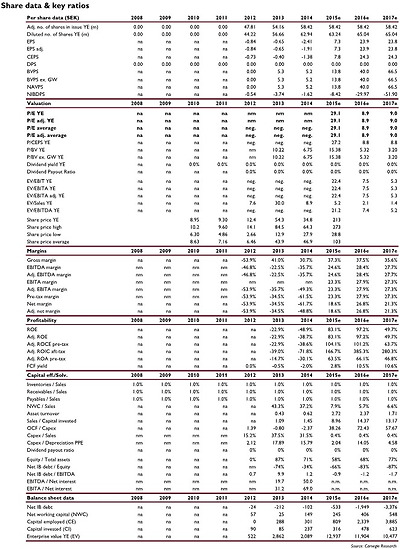 Disclosures and disclaimers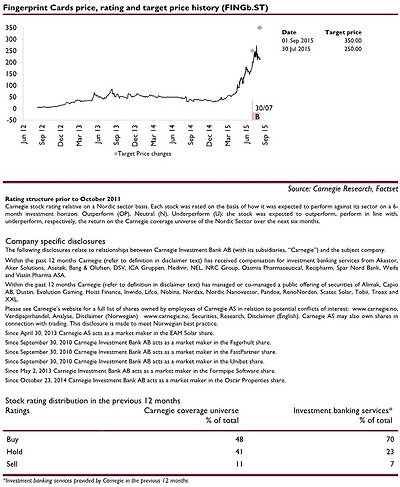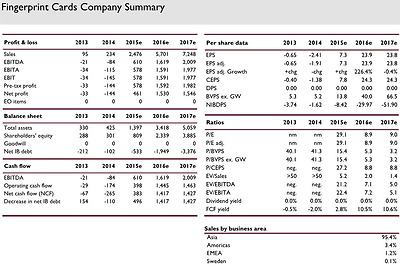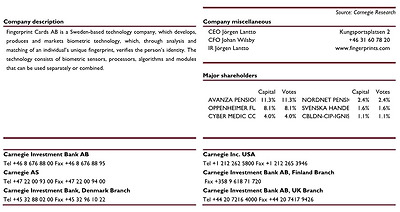 원본 출처 및 관련 링크
http://theleadmagnet.com/CarnegieGoldfinger.pdf


FPC-Carnegie Goldfinger_150908.pdf
http://www.carnegie.se/privatbank/Aktuellt/stor-potential-i-fingerprint-cards/

p.s
자세한 내용은 첨부한 46쪽 보고서를 참조하세요.
투자은행 Carnegie 보고서는 지금까지 본 지문센서 시장 보고서중 최고의 보고서입니다.
다양한 Factor에 대해 다루고 있는데 기술, 시장, FPC 성장 전망과 스마트폰뿐만 아니라 태블릿, 노특북 시장에 대한 자료도 있어
참조할 만한 부분이 많아 여러번 읽어도 충분한 가치가 있는 보고서로 판단됩니다.
자료가 충실해서 최대한 원문을 그대로 옮기는데 주력하였습니다.
개인적인 350 kr는 x15는 어떻게 주었나 했더니 노르딕 하드웨어 섹터 평균치 x13에 15% 프리미엄 준 것. 2016년 실적 예상으로는 x9.
개인적으로 성장성에 비해 너무 적게 준 것 아닌가에 의문을 가졌는데 중기적으로 지속적으로 높은 점유율을 유지한다면 x20~40배도 언급.
이론상 x28배를 언급했는데 이는 모건스탠리 대만이 중국 O-film의 목표주가로 산정한 수치이기도 함.
범위를 x13~x40로 주었는데 모건스탠리는 더 넓은 범위를 주었고 Base를 x40로 언급한 것으로 기억.
Carnegie는 20%이상 성장하는 기업에 대해서 x20~x47배 범위를 언급하기도 함
경쟁자 목록에서 제가 주목하는 회사는 미국 Synaptics, 중국 Goodix보다 중국 Egis Tech과 BYD Microelectronics 정도이며

당분간 FPC 독주가 예상되나 2018년~2020년 또는 2020년 이후 현재 MEMS/CMOS 센서와 초음파 기술이 통합되는 형태로 제조사와 시장의 요구가 나올 것으로 예상.
Goodix의 강점은 대만 TPK와 공동 개발한 Invisible Fingerprint Sensor로 대형 업체에서 관심이 없자 중국 Blackview를 통해 상용화하여 시장의 관심을 끌려고 하고 있음. 시장 동향에서 Goodix는 Meizu MX4 Pro이후 이렇다 할 대형 제조업체를 확보하지 못한 상태.
현재 확인되지 않은 ZTE Nubia Z9, ZTE V3, Lenovo VIBE P1이 FPC일 확율 높은 NDA 상태일 수도 있고 개인적으로 Egis Tech 또는 BYD Microelectronics일 수도 있는 상황인데 현재까지 공급사가 알려지지 않은 상태.(3개 모델 계속 공급사 모니터링 중)

Carnegie가 삼성, 애플을 제외하고 시장동향을 FPC에 의한 100%점유율은 사실상 시장동향상 정확한 자료상태.

다만, 20여개 이상의 중소기업의 30여개 이상의 터치센서 탑재 모델에 대한 언급은 빠져있는 상태
-->구체적인 1개 이상의 터치센서를 탑재한 모델을 내놓은 중소기업은 Elephone, Cubot, Ulefone, Oukitel, Timmy, Mlais, Turing(미국), iOcean, Blueboo, Mstar, ZeaPlus, Mijue, Blackview(Goodix 센서 채택 예상), Qi Cheng, Doogee, xiaolajiao(Small Red Pepper, Egis Tech 센서 채택), Macoox, Smartrisan(Hammer), Pyle, Malata, KooBee, Leagoo, Zopo, Green Orange 약 24개 회사로 모니터링 되며 FPC 센서 채택율이 높을 것으로 예상되며 모듈 공급사는 FPC 제휴 파트너인 대만 Primax, 대만 LiteOn등으로 예상.
연도별 지문센서 시장 예상은 저보다 보수적으로 본 듯.
수치는 삼성을 고객으로 확보여부에 따라 많은 차이가 날 수 있는 것으로 판단.
개인적으로 2016년은 FPC 센서를 삼성에 공급하는 해가 될 것임. 빠르면 갤럭시 S7일 수도 있으나 모듈은 삼성 내재화 지속으로 예상.
삼성에 시냅틱스 뒤에 실제로는 Egis Tech이 있는 것을 아는 증권사, 전문가도 드문데 이를 정확히 언급한 것도 정확성을 더함.

Egis Tech(Synaptics)은 삼성의 다양한 Form Factor와 장기적인 지문센서 개발 능력이 FPC보다는 떨어지고 무엇보다 삼성이 요구하는 센서가격을 FPC는 맞추어 줄 수 있음. A8, Tab S2, Note5에서도 기대했는데 확인할 수 없었음.
다만, 이 보고서 Potential 아래 Samsung design win부분에서 "Samsung is seemingly dissatisfied with the sensor performance and has brought in Egistec to improve the sensor"를 언급하고 있는데 Design Win은 이미 작년에 삼성향이 있었고 언제든지 기회를 제공할 것으로 판단.
2015년은 SD810의 발열문제와 안드로이드 5.0.1의 메모리 누수, 배터리 누수 문제로 안드로이드 업데이트에 문제가 발생하였고 발열문제로 프리미엄 모델 발표가 늦춰지거나 무기한 연기되거나 소비자의 외면을 받은 측면도 있음. 개인적으로 2015년 스마트폰, 지문센서 시장의 최대 악재는 센서시장 자체보다는 AP칩 발열문제 였다고 여기고 있음. 올해 12월 이후 또는 내년 1Q 이것이 해결되는 것을 최우선 관심사항으로 두고 있을 정도임.
영업이익율 부문운 크루셜텍 원가와도 상관있는데 제가 아는 것보다 약간 높게 잡은 것도 눈에 띈다.
현재 중국 스마트폰 시장에서 보급형에서 이어 699위안, 799위안 저가 스마트폰에서도 지문센서가 탑재되는 상황은 이미 충분한 가격하락이 있다고 보여 현재 3$ 센서 시장공급가는 유지될 것으로 예상. FPC는 현재 경쟁자 다운 경쟁자가 없는 시장상황에서 가격정책을 펼칠 이유가 없는 상태.

초음파 기술을 발표한 Sonavation U2F 악세사리 시장에 진출한 상태로 모니터링 되어 위협이 되지 않고 퀄컴이 올해 12월~내년 1Q 제조업체에서 30여개 이상의 모델을 내놓을 것을 언급한 바 이는 막혀있던 프리미엄 모델이 발표가 급격히 증가시킬 것.
또한, SD620은 SD808과 SD810보다 GPU성능이 뛰어난 AP칩으로 시장출하시 보급형 모델 공급도 늘어나 소비자들은 다양한 모델과 성능을 경험해 볼 수 있을 것. 퀄컴 Sense ID 기술에 대해서는 누차 언급하여 생략함.
보고서를 읽으면서 2014년 Hauwei Mate7에서 FPC 1020이 성공을 많은 사람들이 회자하지만 Meizu MX4 Pro와 Oppo N3에서 메인공급자였던 크루셜텍이 IDEX 센서문제로 메탈 케이스 노이즈를 처리하지 못해 Meizu MX4 Pro에서 Goodix로 Oppo N3에서는 FPC 1021이 교체하면서 런칭되고 제조사의 다양한 Form Factor요구에 맞춰 1155, 1140, 1145, 1022, 1035등을 빠르게 시험, 개발하고 Under Glass FPC 1200 개발에 크루셜텍과 FPC의 긴밀한 협력도 큰 의미가 있다고 판단. 노르웨이 IDEX는 2014년 큰 기회를 잃어서 2015년을 힘겹게 보내고 있는 반면, FPC 큰 성공을 이루고 있는 결과를 낳음. IDEX는 최근 포춘 500대 기업에 In-Glass 솔루션을 내년에 공급할 것으로 발표한 바 있는데 이 보고서에서 코닝사를 언급했는데 매우 흥미롭네요. 코닝사는 스마트폰 커버 글라스로 사용되는 Gorilla 시리즈를 공급하는 회사로 대부분의 스마트폰이 현재 Gorilla 3,4 를 사용하고 있을 정도인데 커버 글라스 업체와 현재 개발중이라면 매우 의미있는 것.
웨이퍼 칩생산, 웨이퍼 가공, 모듈 조립-가공 단가 자료가 기존 중국 증권사, 모건스탠리 대만 자료와 차이가 남.
SW 알고리즘은 제조업체와 계약은 대당 라이센스로 알려졌는데 Carnegie 보고서에서 대당 0.2$로 산정됨.

FPC는 TSMC가 아닌 SMIC에서 웨이퍼 레벨 칩 생산을 해서 다소 차이가 날 수 있음.
센서 가격은 웨이퍼 레벨 생산단계에서 웨이퍼 크기에 따라 생산되는 센서 갯수가 20%차이가 날 수 있음.
대량주문으로 파운드리 업체 SMIC에서 생산할 때 웨이퍼 크기가 큰 것으로 생산하면 생산단가는 줄어듬을 알 수 있으며 또한 가장 큰 1020과 가장 작은 1140, 1022/1035와는 가격 차이가 약 0.5$ 난다는 것도 알 수 있고 Carnegie 보고서는 3$~3.5$로 언급하고 있음.

Carnegie는 팹리스 업체 BEP를 1.8~2.1$로 보아 2.5~2.8$을 향후 2~3년내 마지노선(FPC 몫 0.7$)으로 판단.

FPC가 중국시장 공략을 위해 중국업체인 O-film을 생태계(Ecosytems)로 끌어들인 것도 시기 적절하고 중요하고 옳은 결정이었다고 판단. 국내 파트론(삼성 카메라 모듈 최대업체)은 Ecosystem에서 빠졌고 드림텍(각종 컨넥터 업체)은 존재감이 없으나 이 보고서는 드림텍을 언급했으며 대만 Primax와 LiteOn은 주력 사업인 카메라 모듈사업에 치중하고 있는 것으로 예상. 다른 센서업체 모듈 파트너에 대한 정보는 지문인식 시장 의견 게시판에 공급망 분석 글을 참조하길 바람.
크루셜텍 월 700~1000만대, O-film 월 400만대로 시작했지만 이제 크루셜텍 1200만대 이상, O-film 월 800만대(내년 월 1000만개~1200만개 증설 예정) 이상 CAPA를 늘렸거나 늘리는 중으로 판단되며 다른 센서업체 대비 시장 공급능력도 충분한 상태.
-------------------------------------------------

3) Carnegie 보고서는 가격, 경제적인 개발같은 직접적인 이유말고도 클라우드 컴퓨팅, 온라인 뱅킹, 사물인터넷(IoT) 성장 파급력도 채택율에 영향을 줄 것으로 언급.
애플 제외한 FPC 센서 침투율 예상: 2015년 25%, 2016:37%, 2017:47%

애플, 삼성 제외한 시장 점유율 예상: 2015년 ~96%, 2016년 80%, 2017e:70%

2015년 4Q 매출 예상액-1032M SEK(3Q FPC 예상 매출액은 860M SEK)

FPC 2015년 센서 판매 예상 갯수: 8500만개, 2016년 2.27억개, 2017년 3.46억개
FPC 2015년 센서 ASP: 3.3$, 2016년 3$, 2017년 2.5$
애플, 삼성을 제외한 스마트폰, 태블릿, 노트북 시장 댓수 2015:13.17억대, 2016:13.40억대, 2017:14.66억대
애플을 제외한 지문센서 시장 2015:4.18억대, 2016년:6.19억대, 2017년:8.61억대, 2018:12.33억, 2019년:13.54억대, 2020년:14.79억대
글로벌 지문센서 ASP: 2015년 4$, 2016년:3$, 2017년:2.5$, 2018년:2.3$, 2019년:2.1$, 2020년:2$
매출 예상액과 영업 이익율-2015:2476M SEK(40%), 2016:5701M SEK(39%), 2017:7248M SEK(37%)
크루셜텍 영업 이익율은 3Q되야 의미 있는 수치가 나올 것으로 판단되며
7%~
8%이상을 기대해 봅니다.