Landscape with Figures, 1859,
oil
on canvas , Private Collection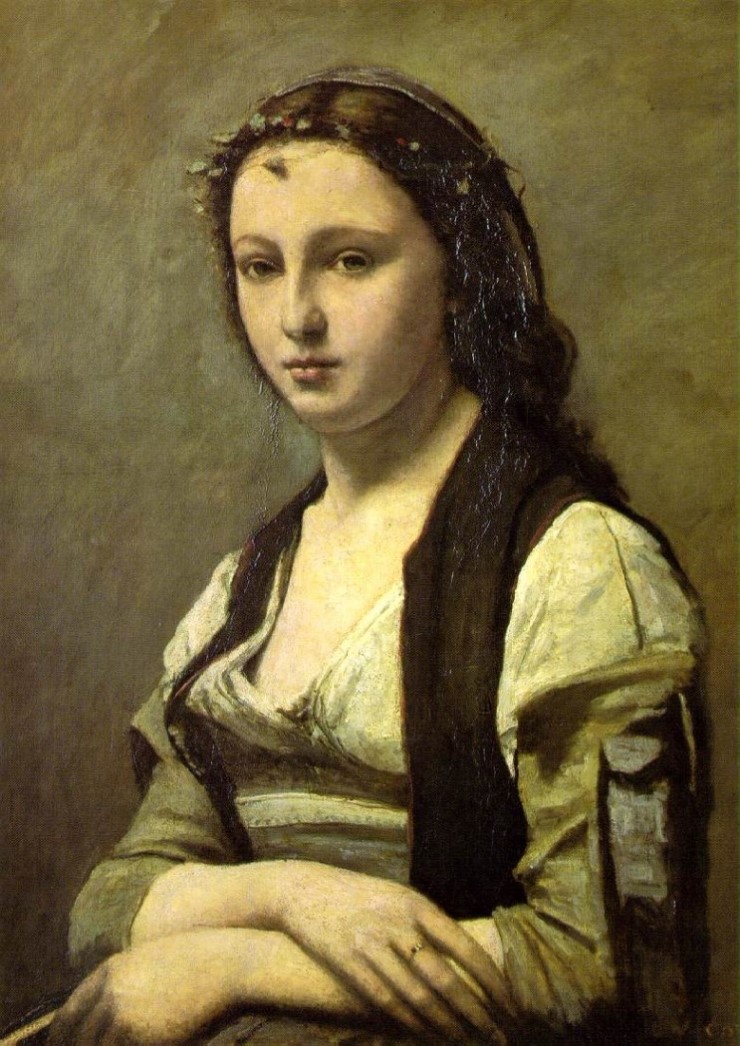 Woman With A Pearl, 1858-68, oil on canvas, 70cm X 55cm, 루불박물관소장

이 그림은 레오나르도 다 빈치의 <모나리자>를 새롭게 재구성한 작품이다. 장 밥티스트 카미유 코로는 모델에게 이탈리아 의상을 입게 한 뒤에 그림을 그렸다. 이 의상은 이탈리아를 여행할 때 코로가 직접 현지에서 구입한 것이었다.
코로는 르네상스 거장들의 그림을 배우러 이탈리아에 갔지만, 그다지 큰 인상을 받지 못했다. 그러나 르네상스 화가들에게 별로 관심이 없었던 사정과 달리 코로는 다 빈치를 가장 좋아하는 화가로 꼽았는데, 이 그림은 이런 코로의 마음을 반영한 것이라고 볼 수 있다.
모델의 자세로 보아서 이 그림은 분명히 <모나리자>를 염두에 두고 그려진 것이지만, 제목은 베르메르의 작품을 연상시킨다.
신비스러운 표정이나 시선, 그리고 복장에서 베르메르의 그림과 유사한 분위기를 느낄 수 있다. 이탈리아 의상이기는 하지만 이 그림의 모델이 입고 있는 옷은 국적 불명이다. 마치 베르메르의 그림에 등장하는 여인이 터키식 터번을 쓰고 있는 것처럼, 머리에 두른 진주 장식은 왠지 전체적으로 의상과 어울리지 않는 분위기를 연출한다.
게다가 코로의 그림에서 확인할 수 있는 의상은 귀족의 것도 아니고 농부의 평복이다. 이탈리아나 그리스에서 평민들이 입는 옷인데다가 머리 장식으로 달려있는 진주는 덮개에 씌워진 모습이다. 베르메르의 진주가 확연한 흰색을 띠는 것과 대조적으로 코로는 진주를 그대로 드러내지 않고 감춰놓은 것이다.
게다가 머리에 베일을 쓰고 있는 모습도 특이하다. 팔짱을 끼고 앉아있는 젊은 여인은 특별한 긴장감을 주지 않는다. 자연스럽게 힘을 주지 않은 팔뚝은 <모나리자>와 흡사하다. 그러나 얼굴형이나 머리 장식은 다 빈치의 것과 한참 거리가 있다.
갸름한 얼굴형은 <모나리자>보다도 라파엘의 비너스에 더 가깝다. 코로의 의도는 알 수 없지만, 이 그림에서 그는 자신의 행적에서 발견했던 화가의 흔적들을 모두 표현해 놓고 있는 것이다.